Abordaje de dolor perineal y vulvodinia: a propósito de un caso
Palabras clave:
Dolor perineal, vulvodinia, dolor vulvar, dolor perianal, piso pélvico, dolor anorrectal
Resumen
El dolor perineal abarca un amplio abanico de posibilidades diagnósticas, debido a la gran cantidad de estructuras anatómicas presentes en el periné, de diferentes orígenes, pero con inervación compartida, por lo cual es importante tener presente el abordaje para el mismo. El objetivo de este artículo es proporcionar herramientas que nos ayuden a llegar a un diagnóstico preciso, para un adecuado y oportuno tratamiento, debido a que se consideran patologías muy frecuentes, las cuales son infradiagnosticadas lo cual conlleva a un manejo tórpido que perpetua su cronicidad.
Descargas
Los datos de descargas todavía no están disponibles.
Citas
Marchitelli C. Enfermedades de la vulva. Un enfoque interdisciplinario [Internet]. Ediciones Journal, editor. Buenos Aires; 2018 [cited 2022 Jan 31]. 333 p. Available from: https://www.edicionesjournal.com/E-Book/9789874922328/Enfermedades+De+La+Vulva+(E-Book)
Havemann LM, Cool DR, Gagneux P, Markey MP, Yaklic JL, Maxwell RA, et al. Vulvodynia: What We Know and Where We Should Be Going. J Low Genit Tract Dis. 2017;21(2):150–6.
Butrick CW. Pelvic Floor Hypertonic Disorders: Identification and Management. Vol. 36, Obstetrics and Gynecology Clinics of North America. 2009. p. 707–22.
Dwarkasing RS, Schouten WR, Geeraedts TEA, Mitalas LE, Hop WCJ, Krestin GP. Chronic anal and perianal pain resolved with MRI. Am J Roentgenol. 2013;200(5):1034–41.
Mastragostino P, Lee AD, Battaglia PJ. Perianal abscess mimicking levator ani syndrome: A case report and approach to the differential diagnosis of anorectal pain. J Can Chiropr Assoc. 2017;61(2):145–52.
Bharucha AE, Lee TH. Anorectal and Pelvic Pain. Mayo Clin Proc [Internet]. 2016 [cited 2022 Jan 31];91(10):1471–86. Available from: http://dx.doi.org/10.1016/j.mayocp.2016.08.011
Thornton KGS, Robert M. Prevalence of Pelvic Floor Disorders in the Fibromyalgia Population: A Systematic Review. J Obstet Gynaecol Canada [Internet]. 2020 [cited 2022 Jan 31];42(1):72–9. Available from: https://doi.org/10.1016/j.jogc.2019.02.013
Stockdale CK, Lawson HW. 2013 vulvodynia guideline update. J Low Genit Tract Dis. 2014;18(2):93–100.
Shrikhande A, Ullger C, Seko K, Patil S, Natarajan J, Tailor Y, et al. A physiatrist's understanding and application of the current literature on chronic pelvic pain: a narrative review. PAIN Reports [Internet]. 2021 Sep [cited 2022 Jan 31];6(3):e949. Available from: https://journals.lww.com/painrpts/Fulltext/2021/09000/A_physiatrist_s_understanding_and_application_of.7.aspx
Gomel V. Chronic pelvic pain: A challenge. J Minim Invasive Gynecol. 2007;14(4):521–6.
Quaghebeur J, Petros P, Wyndaele JJ, De Wachter S. Pelvic-floor function, dysfunction, and treatment. Eur J Obstet Gynecol Reprod Biol [Internet]. 2021 [cited 2022 Jan 31];265:143–9. Available from: https://doi.org/10.1016/j.ejogrb.2021.08.026
Reed BD. Vulvodynia: Diagnosis and Management. Am Acad Fam Physicians [Internet]. 2006 [cited 2022 Jan 31];73(7):1231–8. Available from: http://www.aafp.org/afpsort.xml.
Youssef AT. Use of Ultrasonography in Clarifying the Etiology of Anal Pain. J Med Ultrasound [Internet]. 2017 [cited 2022 Jan 31];25(4):208–14. Available from: http://dx.doi.org/10.1016/j.jmu.2017.03.014
Greenhalgh R, Cohen CR, Burling D, Taylor SA. Rational imaging: Investigating perianal pain of uncertain cause. Bmj. 2008;336(7640):387–9.
Bohm-Starke N. Medical and physical predictors of localized provoked vulvodynia. Acta Obstet Gynecol Scand. 2010;89(12):1504–10.
Andrews JC. Vulvodynia interventions-systematic review and evidence grading. Obstet Gynecol Surv [Internet]. 2011 [cited 2022 Jan 31];66(5):299–315. Available from: www.obgynsurvey.com
Nantarattasakul C, Tannirandorn Y. The Incidence of Vaginal Vault Granulations after Vaginal Vault Closed by Polyglactin Compared with Chromic Catgut: A Randomized Controlled Trial. Thai J Obstet Gynaecol [Internet]. 2002;14(2):151–5. Available from: https://he02.tci-thaijo.org/index.php/tjog/article/view/88816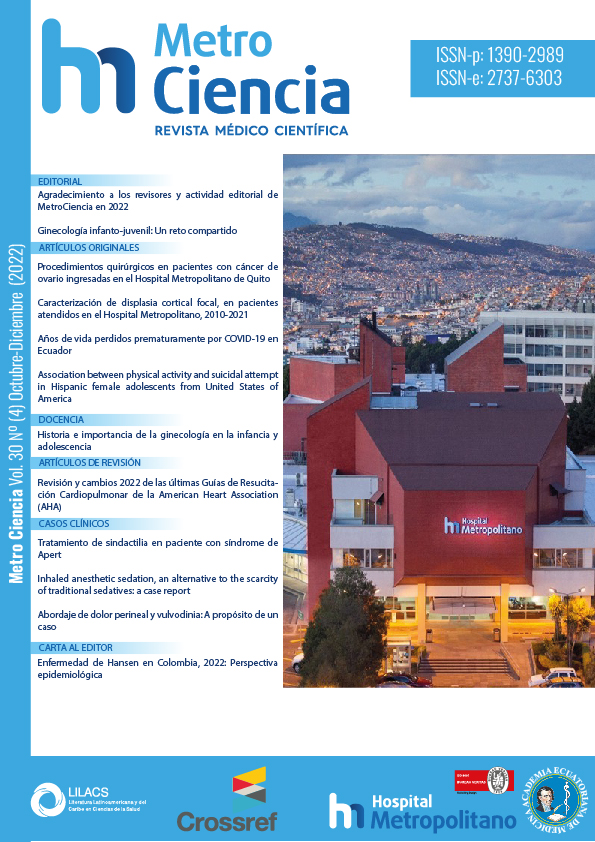 Cómo citar
Salazar-Chiriboga, S., Salazar-Molina, D., Sánchez-Peña, J. D., Nicolalde-Castillo, G., & Samaniego-Balseca, D. (2022). Abordaje de dolor perineal y vulvodinia: a propósito de un caso. Metro Ciencia, 30(4), 85-93. https://doi.org/10.47464/MetroCiencia/vol30/4/2022/85-93
Licencia
Derechos de autor 2022 Stephania Salazar-Chiriboga, Danilo Salazar-Molina, José Daniel Sánchez-Peña, Gonzalo Nicolalde-Castillo, Darnely Samaniego-Balseca
Esta obra está bajo una licencia internacional Creative Commons Atribución 4.0.