Caracterización de displasia cortical focal, en pacientes atendidos en el Hospital Metropolitano, 2010-2021
Palabras clave:
Displasia cortical focal, malformación del desarrollo cortical, epilepsia, epilepsia refractaria
Resumen
Introducción: Displasias corticales focales (DCF) son un subgrupo de malformaciones circunscritas del desarrollo cortical. Representan la causa más común de epilepsia refractaria en la población pediátrica y la segunda / tercera causa en adultos. Metodología: Estudio observacional, cuantitativo, descriptivo, retrospectivo, con muestreo por conveniencia. Se incluyeron 107 pacientes con DCF. Se realizó análisis univarial con frecuencias y porcentajes. Chi-cuadrado y diferencia de medias para análisis bivarial. Para medir asociación se utilizó RR (IC 95%). Resultados: La edad media fue 16,85 años, 49,53% mujeres y 50,47% hombres. 14,95% presentó antecedentes de convulsiones febriles, 3,74% fueron asintomáticos. Crisis focales fue la presentación más habitual (67,9%), predominantemente motoras (83,5%). El 11,21% presentó deterioro cognitivo. El 61,68% había sido diagnosticados de epilepsia criptogénica. La edad media de inicio de síntomas fue 11 años. Pacientes con antecedentes de convulsiones febriles presentaron sintomatología más temprana (4,73 años). El 46,7% de DCF se localizó en el lóbulo temporal. Pacientes con DCF tipo III presentaron debut más tardío (13,79 años). 50,77% de los pacientes presentaron epilepsia refractaria. 7,7% fueron sometidos a cirugía. Se encontró asociación entre epilepsia refractaria y deterioro cognitivo (RR 1,9). Pacientes con convulsiones febriles presentaron debut más temprano de epilepsia (4,7 años). Pacientes con deterioro cognitivo presentaron inicio precoz de síntomas (4,58 años). Conclusiones: DCF es causa importante de epilepsia refractaria, 50.7% de los pacientes de este estudio presentaron dicha característica. El inicio de la sintomatología se presenta en edades tempranas. La presencia de crisis farmacorresistentes representa un factor de riesgo para deterioro neurocognitivo.
Descargas
Los datos de descargas todavía no están disponibles.
Citas
Iffland PH, Crino PB. Focal Cortical Dysplasia: Gene Mutations, Cell Signaling, and Therapeutic Implications. Annu Rev Pathol. 2017;12:547–71.
Tahta A, Turgut M. Focal cortical dysplasia: etiology, epileptogenesis, classification, clinical presentation, imaging, and management. Childs Nerv Syst ChNS Off J Int Soc Pediatr Neurosurg. 2020;36(12):2939–47.
Juric-Sekhar G, Hevner RF. Malformations of Cerebral Cortex Development: Molecules and Mechanisms. Annu Rev Pathol. 2019;14:293–318.
Kumari K, Sharma MC, Kakkar A, Malgulwar PB, Pathak P, Suri V, et al. mTOR pathway activation in focal cortical dysplasia. Ann Diagn Pathol. 2020;46:151523.
Chen J, Tsai V, Parker WE, Aronica E, Baybis M, Crino PB. Detection of human papillomavirus in human focal cortical dysplasia type IIB. Ann Neurol. 2012;72(6):881–92.
Roberts B. Neuronal Migration Disorders. Radiol Technol. 2018;89(3):279–95.
Baldassari S, Ribierre T, Marsan E, Adle-Biassette H, Ferrand-Sorbets S, Bulteau C, et al. Dissecting the genetic basis of focal cortical dysplasia: a large cohort study. Acta Neuropathol (Berl). 2019;138(6):885–900.
Marsan E, Baulac S. Review: Mechanistic target of rapamycin (mTOR) pathway, focal cortical dysplasia and epilepsy. Neuropathol Appl Neurobiol. 2018;44(1):6–17.
Ribierre T, Deleuze C, Bacq A, Baldassari S, Marsan E, Chipaux M, et al. Second-hit mosaic mutation in mTORC1 repressor DEPDC5 causes focal cortical dysplasia-associated epilepsy. J Clin Invest. 2018;128(6):2452–8.
Siedlecka M, Grajkowska W, Galus R, Dembowska-Bagińska B, Jóźwiak J. Focal cortical dysplasia: Molecular disturbances and clinicopathological classification (Review). Int J Mol Med. 2016;38(5):1327–37.
Rickert CH. Cortical dysplasia: neuropathological aspects. Childs Nerv Syst. el 1 de agosto de 2006;22(8):821–6.
Maynard LM, Leach JL, Horn PS, Spaeth CG, Mangano FT, Holland KD, et al. Epilepsy prevalence and severity predictors in MRI-identified focal cortical dysplasia. Epilepsy Res. 2017;132:41–9.
Najm IM, Sarnat HB, Blümcke I. Review: The international consensus classification of Focal Cortical Dysplasia - a critical update 2018. Neuropathol Appl Neurobiol. 2018;44(1):18–31.
Urbach H, Kellner E, Kremers N, Blümcke I, Demerath T. MRI of focal cortical dysplasia. Neuroradiology. 2021;
Crino PB. Focal Cortical Dysplasia. Semin Neurol. 2015;35(3):201–8.
Kwon HE, Eom S, Kang HC, Lee JS, Kim SH, Kim DS, et al. Surgical treatment of pediatric focal cortical dysplasia: Clinical spectrum and surgical outcome. Neurology. 2016;87(9):945–51.
Feng C, Zhao H, Tian M, Lu M, Wen J. Detecting focal cortical dysplasia lesions from FLAIR-negative images based on cortical thickness. Biomed Eng Online. 2020;19(1):13.
Khandelwal A, Aggarwal A, Sharma A, Malik A, Bose A. MRI of Malformations of Cortical Development- A Comprehensive Review. World Neurosurg. 2021;S1878-8750(21)01854-4.
Krsek P, Kudr M, Jahodova A, Komarek V, Maton B, Malone S, et al. Localizing value of ictal SPECT is comparable to MRI and EEG in children with focal cortical dysplasia. Epilepsia. 2013;54(2):351–8.
Wong-Kisiel LC, Blauwblomme T, Ho ML, Boddaert N, Parisi J, Wirrell E, et al. Challenges in managing epilepsy associated with focal cortical dysplasia in children. Epilepsy Res. 2018;145:1–17.
Gurkan ZM, Sirin NG, Kara B, Gul G, Eren FS, Guveli BT, et al. Surgical Treatment in Refractory Epilepsy: Seizure Outcome Results Based on Invasive EEG Monitorization. Turk Neurosurg. 2022;32(1):143–8.
Fauser S, Huppertz HJ, Bast T, Strobl K, Pantazis G, Altenmueller DM, et al. Clinical characteristics in focal cortical dysplasia: a retrospective evaluation in a series of 120 patients. Brain. 2006;129(7):1907–16.
Gaitanis JN, Donahue J. Focal cortical dysplasia. Pediatr Neurol. 2013;49(2):79–87.
D'Gama AM, Walsh CA. Chapter 12 - Focal cortical dysplasia. En: Rubenstein J, Rakic P, Chen B, Kwan KY, editores. Neurodevelopmental Disorders [Internet]. Academic Press; 2020 [citado el 6 de mayo de 2022]. p. 285–307. Disponible en: https://www.sciencedirect.com/science/article/pii/B9780128144091000124
Palmini A, Holthausen H. Focal malformations of cortical development: a most relevant etiology of epilepsy in children. Handb Clin Neurol. 2013;111:549–65.
Guerrini R, Duchowny M, Jayakar P, Krsek P, Kahane P, Tassi L, et al. Diagnostic methods and treatment options for focal cortical dysplasia. Epilepsia. 2015;56(11):1669–86.
Widdess-Walsh P, Kellinghaus C, Jeha L, Kotagal P, Prayson R, Bingaman W, et al. Electro-clinical and imaging characteristics of focal cortical dysplasia: Correlation with pathological subtypes. Epilepsy Res. 2005.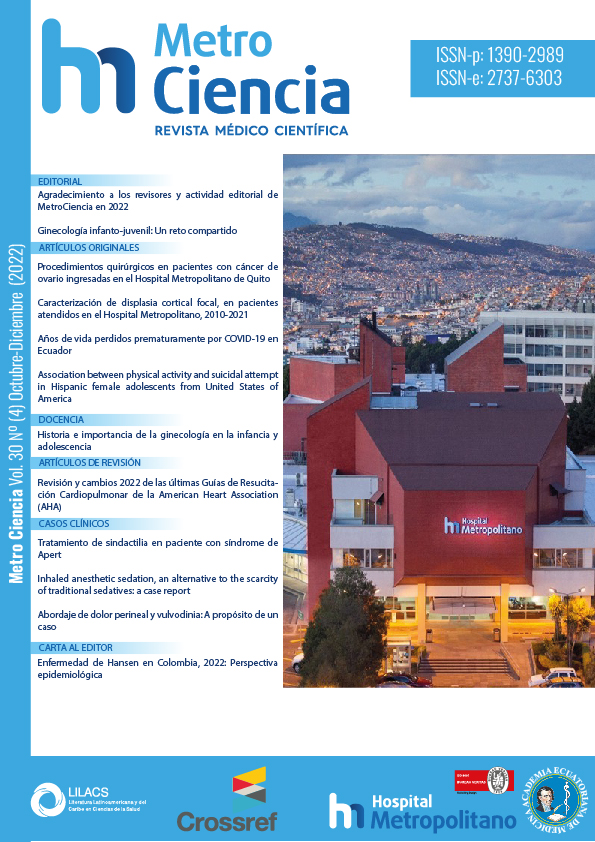 Cómo citar
Torres Campoverde, F. M., & Abad Herrera, E. P. (2022). Caracterización de displasia cortical focal, en pacientes atendidos en el Hospital Metropolitano, 2010-2021. Metro Ciencia, 30(4), 22–34. https://doi.org/10.47464/MetroCiencia/vol30/4/2022/22-34
Sección
Artículos Originales
Licencia
Derechos de autor 2022 Fabián Marcelo Torres Campoverde, Emilio Patricio Abad Herrera
Esta obra está bajo una licencia internacional Creative Commons Atribución 4.0.