Conocimiento, actitud y percepción de los odontólogos ante el COVID-19
Palabras clave:
capilar, conocimiento, actitud, percepción, práctica, odontólogos, profesionales dentales y COVID-19, COVID-19, SARS-CoV-2
Resumen
La Organización Mundial de la Salud declaró el brote del nuevo coronavirus (COVID-19) como pandemia el 11 de marzo de 2020 debido a su rápida propagación a escala mundial. Los odontólogos tienen un alto riesgo de contraer infecciones por el nuevo coronavirus debido a las gotas y aerosoles generados durante los procedimientos dentales en pacientes potencialmente infectados. Por esto, el conocimiento, la percepción y la actitud de estos trabajadores se consideran importantes para prevenir y controlar el brote. Los resultados del presente artículo indican que la mayoría de los odontólogos tienen un conocimiento adecuado y buenos puntajes de actitud y percepción, lo cual es primordial para combatir el COVID-19. Sin embargo, todavía existen muchas falencias que deben mejorar para garantizar una práctica dental segura tanto para los pacientes como para los profesionales.
Descargas
Los datos de descargas todavía no están disponibles.
Citas
Wang C, Wang Z, Wang G, Lau JYN, Zhang K, Li W. COVID-19 in early 2021: current status and looking forward. Signal Transduct Target Ther [Internet]. 2021;6(1). Available from: http://dx.doi.org/10.1038/s41392-021-00527-1
Centers for Disease Control and Prevention. 2019 Novel coronavirus. Information for Healthcare Professionals. 2022.
Forchette L, Sebastian W, Liu T. A Comprehensive Review of COVID-19 Virology, Vaccines, Variants, and Therapeutics. Curr Med Sci. 2021;41(6):1037–51.
Yuki K, Fujiogi M, Koutsogiannaki S. COVID-19 pathophysiology: A review. Clin Immunol [Internet]. 2020;215:108427. Available from: https://doi.org/10.1016/j.clim.2020.108427
Gamio L. The workers who face the greatest coronavirus risk. The New York Times. 2020;
Bhanushali P, Katge F, Deshpande S, Chimata VK, Shetty S, Pradhan D. COVID-19: Changing Trends and Its Impact on Future of Dentistry. Int J Dent. 2020;2020.
Lotfi M, Hamblin MR, Rezaei N. COVID-19: Transmission, prevention, and potential therapeutic opportunities. Clin Chim Acta. 2020;508(April):254–66.
WHO. WHO Knowledge, Attitudes, and Practices (KAP) Surveys during Cholera Vaccination Campaigns: Guidance for Oral Cholera Vaccine Stockpile Campaigns. 2014.
Lamberghini F, Testai FD. COVID-2019 fundamentals. J Am Dent Assoc [Internet]. 2021;152(5):354–63. Available from: https://doi.org/10.1016/j.adaj.2021.01.014
Shereen MA, Khan S, Kazmi A, Bashir N, Siddique R. COVID-19 infection: Origin, transmission, and characteristics of human coronaviruses. J Adv Res [Internet]. 2020;24:91–8. Available from: https://doi.org/10.1016/j.jare.2020.03.005
Hegde MN, Parmar G, Logani A, Hegde ND, Ballal S, Krithikadatta J, et al. Dental practice management during COVID-19 times—Now and beyond. Int J Clin Pract. 2021;75(9):1–6.
Suprono MS, Won J, Savignano R, Zhong Z, Ahmed A, Roque-Torres G, et al. A clinical investigation of dental evacuation systems in reducing aerosols. J Am Dent Assoc [Internet]. 2021;152(6):455–62. Available from: https://doi.org/10.1016/j.adaj.2021.02.013
Baghizadeh Fini M. What dentists need to know about COVID-19. Oral Oncol [Internet]. 2020;105(April):104741. Available from: https://doi.org/10.1016/j.oraloncology.2020.104741
Pandey V, Singh A, Siddiqui S, Raikwar A, Gond AK, Ali S, et al. COVID-19: An update of current knowledge (Review). World Acad Sci J. 2021;3(2):1–8.
Alam A, Siddiqui MF, Imam N, Ali R, Mushtaque M, Ishrat R. Covid-19: Current knowledge, disease potential, prevention and clinical advances. Turkish J Biol. 2020;44(Special issue 1):121–31.
Wu Y, Peng Z, Yan Y, Hu J, Wang Y, Wang X, et al. Current knowledge of COVID-19 : Advances, challenges and future perspectives. Biosaf Heal Elsiever. 2020;3(January).
Ministerio de sanidad/ centro de coordinación de Alertas y Emergencias. Enfermedad por coronavirus, COVID-19 [Internet]. 2020. Available from: https://www.mscbs.gob.es/profesionales/saludPublica/ccayes/alertasActual/nCov/documentos/ITCoronavirus.pdf
Ortega R, González M, Nozari A, Canelli R. Personal Protective Equipment and Covid-19. N Engl J Med. 2020;382(26):e105.
Niknam Z, Jafari A, Golchin A, Danesh Pouya F, Nemati M, Rezaei-Tavirani M, et al. Potential therapeutic options for COVID-19: an update on current evidence. Eur J Med Res [Internet]. 2022;27(1):1–15. Available from: https://doi.org/10.1186/s40001-021-00626-3
Molhave, M; Agergaard, J & Wejse C. Clinical Management of COVID-19 patients - An Update. Elsevier. 2021;(January).
Cowger TL, Murray EJ, Clarke J, Bassett MT, Ojikutu BO, Sánchez SM, et al. Lifting Universal Masking in Schools — Covid-19 Incidence among Students and Staff. N Engl J Med. 2022;387(21):1935–46.
WHO. Clinical Care Severe Acute Respiratory Infection. Toolkit: COVID-19 Adaptation. [Internet]. World Health Organization. 2022. Available from: https://www.who.int/publications-detail/clinical-care-of-severe-acute-respiratory-infections-tool-kit
Long RH, Ward TD, Pruett ME, Coleman JF, Plaisance MC. Modifications of emergency dental clinic protocols to combat COVID-19 transmission. Spec Care Dent. 2020;40(3):219–26.
Izzetti R, Nisi M, Gabriele M, Graziani F. COVID-19 Transmission in Dental Practice: Brief Review of Preventive Measures in Italy. J Dent Res. 2020;99(9):1030–8.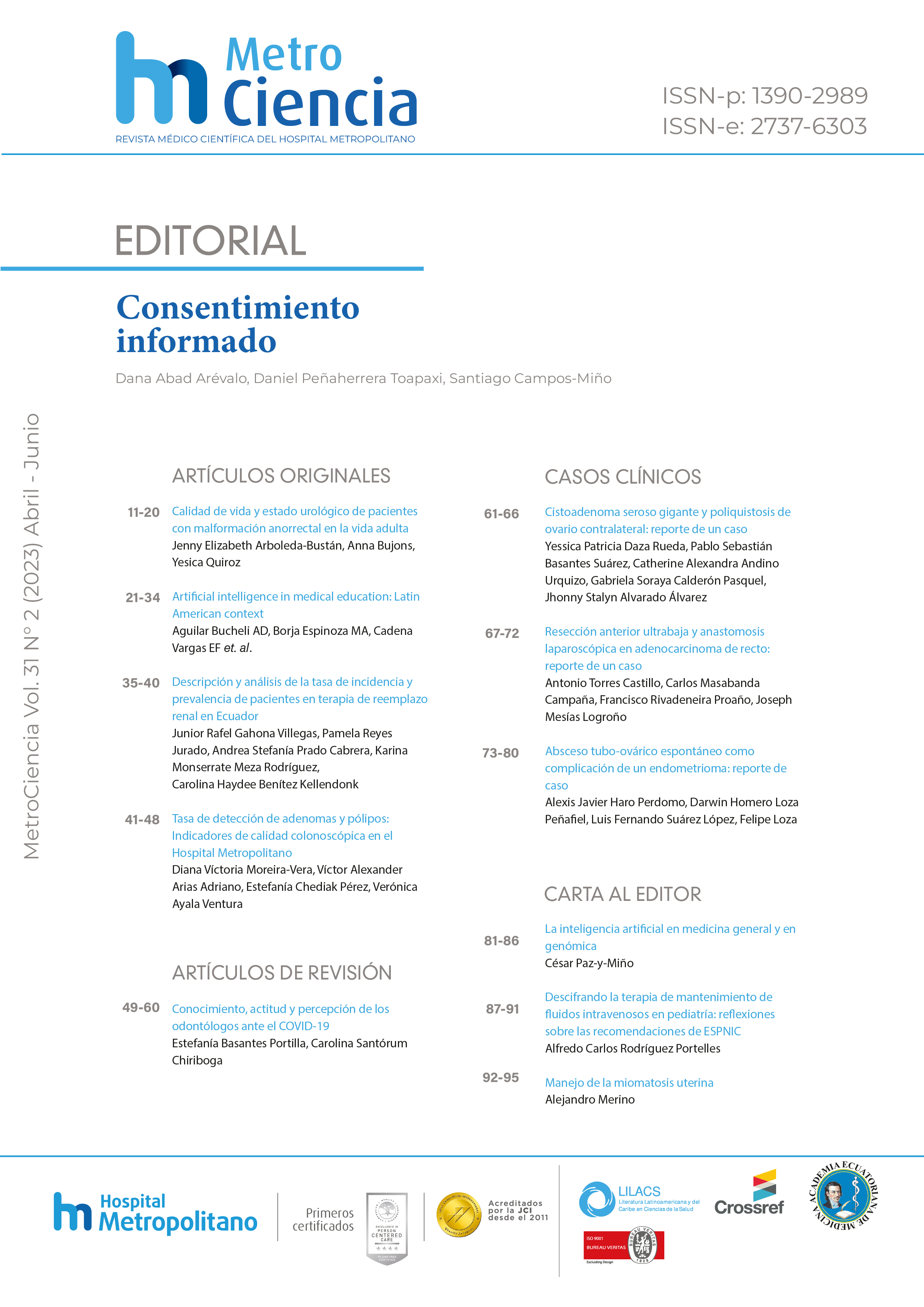 Cómo citar
Basantes Portilla, E., & Santórum Chiriboga, C. (2023). Conocimiento, actitud y percepción de los odontólogos ante el COVID-19. Metro Ciencia, 31(2), 49-60. https://doi.org/10.47464/MetroCiencia/vol31/2/2023/49-60
Sección
Artículo de Revisión
Licencia
Derechos de autor 2023 Estefanía Basantes Portilla, Carolina Santórum Chiriboga
Esta obra está bajo una licencia internacional Creative Commons Atribución 4.0.