Divertículo de Meckel, reporte de tres casos en hospitales de tercer nivel de Quito, Ecuador
Palabras clave:
Divertículo de Meckel, sangrado digestivo, anomalía gastrointestinal, gammagrafía con pertecnetato, Tc-99m
Resumen
Introducción: El divertículo de Meckel es una alteración congénita relativamente rara, sin embargo, es la más frecuente del tracto gastrointestinal que resulta de oclusión incompleta del conducto vitelino, que conduce a la formación de un divertículo verdadero del intestino delgado. Generalmente son silenciosos y se pueden descubrir de forma incidental durante la exploración abdominal en la evaluación de otra patología no relacionada y con menos frecuencia se encuentran en imágenes de diagnóstico. Cuando es sintomático, se presenta con complicaciones tales como dolor abdominal o síntomas de hemorragia intestinal u obstrucción intestinal. Caso clínico: Presentamos a continuación el reporte de 3 casos de pacientes pediátricos que ingresan por el servicio de emergencia de tres hospitales de tercer nivel con sangrado digestivo bajo abundante, rojo rutilante, súbito y sin patologías asociadas, cuyo diagnóstico correspondió a divertículo de Meckel complicado con resolución quirúrgica de los mismos. Conclusión: El divertículo de Meckel no es el primer diagnóstico sospechado en un niño con molestias intestinales; sin embargo, debe ser considerado como primera opción en niños con hemorragia digestiva baja indolora. El divertículo sintomático debe extirparse en todos los casos.
Descargas
Los datos de descargas todavía no están disponibles.
Citas
Neidich GA, Cole SR. Gastrointestinal bleeding. Pediatr Rev. 2014 Jun;35(6):243-53; quiz 254. doi: 10.1542/pir.35-6-243. PMID: 24891598
Lin XK, Huang XZ, Bao XZ, Zheng N, Xia QZ, Chen CD. Clinical characteristics of Meckel diverticulum in children: A retrospective review of a 15- year single-center experience. Medicine (Baltimore). 2017 Aug;96(32):e7760. doi: 10.1097/MD.000000000000776 0. PMID: 28796070
Ruíz-Celorio M, Higuera-de la Tijera F, Pérez-Torres E. El divertículo de Meckel. Rev Med Hosp Gen Méx. 2014; 77:88-92. Disponible en: https://www.elsevier.es/en- revista-revista-medica-del- hospital-general-325-articulo-el-diverticulo-meckel- X0185106314366094
Farrell MB, Zimmerman J. Meckel's Diverticulum Imaging. J Nucl Med Technol. 2020 Sep;48(3):210-213. doi: 10.2967/jnmt.120.251918. PMID: 32883776. Disponible en: https://tech.snmjournals.org/cont ent/jnmt/48/3/210.full.pdf
Lindeman RJ, Søreide K. The Many Faces of Meckel's Diverticulum: Update on Management in Incidental and Symptomatic Patients. Curr Gastroenterol Rep. 2020 Jan 13;22(1):3. doi: 10.1007/s11894-019-0742-1. PMID: 31930430.
Lequet J, Menahem B, Alves A, Fohlen A, Mulliri A. Meckel's diverticulum in the adult. J Visc Surg. 2017 Sep;154(4):253-259. doi: 10.1016/j.jviscsurg.2017.06.006. Epub 2017 Jul 9. PMID: 28698005.
Keese D, Rolle U, Gfroerer S, Fiegel H. Symptomatic Meckel's Diverticulum in Pediatric Patients-Case Reports and Systematic Review of the Literature. Front Pediatr. 2019 Jun 26;7:267.doi: 10.3389/fped.2019.00267. PMID: 31294008; PMCID: PMC6606722.
Żyluk A. Management of incidentally discovered unaffected Meckel's diverticulum-a review. Pol Przegl Chir. 2019 Aug 12 ;91(6): 41-46. doi: 10.5604/01.3001.0013.3400. PMID: 31849359. Disponible en: https://ppch.pl/resources/html/ar ticle/details?id=191167&langua ge=en
Charki MT, Oukhouya MA, Benmassaoud Z, Mahmoudi A, Khattala K, Bouabdallah Y. Les complications du diverticule de Meckel chez l'enfant: à propos de 18 cas [Complications of Meckel's diverticulum in children: about 18 cases]. Pan Afr Med J. 2019 Jun 14;33:113. French. doi: 10.11604/pamj.2019.33.113.18756. PMID: 31489091; PMCID: PMC6711690. Disponible en: https://www.panafrican-med-journal.com/content/article/33/1 13/full/
Slívová I, Vávrová Z, Tomášková H, Okantey O, Penka I, Ihnát P. Meckel's Diverticulum in Children-Parameters Predicting the Presence of Gastric Heterotopia. World J Surg. 2018 Nov;42(11):3779-3784. doi: 10.1007/s00268-018-4664-0. PMID: 29750325
Hansen CC, Søreide K. Systematic review of epidemiology, presentation, and management of Meckel's diverticulum in the 21st century. Medicine (Baltimore). 2018 Aug;97(35):e12154. doi: 10.1097/MD.000000000001215. PMID: 30170459; PMCID: PMC6392637.
Ivatury RR. Meckel's diverticulum and the eponymous legend. J Trauma Acute Care Surg. 2019 Aug;87(2):451-455. doi: 10.1097/TA.0000000000002300. PMID: 31349351.
Chen Q, Gao Z, Zhang L, Zhang Y, Pan T, Cai D, Xiong Q, Shu Q, Qian Y. Multifaceted behavior of Meckel's diverticulum in children. J Pediatr Surg. 2018 Apr;53(4):676-681. doi: 10.1016/j.jpedsurg.2017.11.059. Epub 2017 Dec 5. PMID: 29331260.
Sagar J, Kumar V, Shah DK. Meckel's diverticulum: a systematic review. J R Soc Med. 2006 Oct;99(10):501-5. doi: 10.1258/jrsm.99.10.501. Erratum in: J R Soc Med. 2007 Feb;100(2):69.doi: 10.1258/jrsm.99.10.501 PMID: 17021300; PMCID: PMC1592061.
Pollack ES. Pediatric abdominal surgical emergencies. Pediatr Ann. 1996 Aug;25(8):448-57. doi: 10.3928/0090-4481- 19960801-08. PMID: 8863320.
Yahchouchy EK, Marano AF, Etienne JC, Fingerhut AL. Meckel's diverticulum. J Am Coll Surg. 2001 May;192(5):658-62. doi: 10.1016/s1072-7515(01)00817-1. PMID: 11333103.
Lin S, Suhocki PV, Ludwig KA, Shetzline MA. Gastrointestinal bleeding in adult patients with Meckel's diverticulum: the role of technetium 99m pertechnetate scan. South Med J. 2002 Nov;95(11):1338-41. PMID: 12540005.
Javid, P., & Pauli, E. Meckel's diverticulum. UpToDate. 2020. Recuperado el 2022, de https://www.uptodate.com/
Zani A, Eaton S, Rees CM, Pierro A. Incidentally detected Meckel diverticulum: to resect or not to resect? Ann Surg. 2008 Feb;247(2):276-81. doi: 10.1097/SLA.0b013e31815aaaf 8. PMID: 18216533.
Soltero MJ, Bill AH. The natural history of Meckel's Diverticulum and its relation to incidental removal. A study of 202 cases of diseased Meckel's Diverticulum found in King County, Washington, over a fifteen year period. Am J Surg. 1976 Aug;132(2):168-73. doi: 10.1016/0002-9610(76)90043-x. PMID: 952346.
Park JJ, Wolff BG, Tollefson MK, Walsh EE, Larson DR. Meckel diverticulum: the Mayo Clinic experience with 1476 patients (1950-2002). Ann Surg. 2005 Mar;241(3):529-33. doi: 10.1097/01.sla.0000154270.143 08.5f. PMID: 15729078; PMCID: PMC1356994.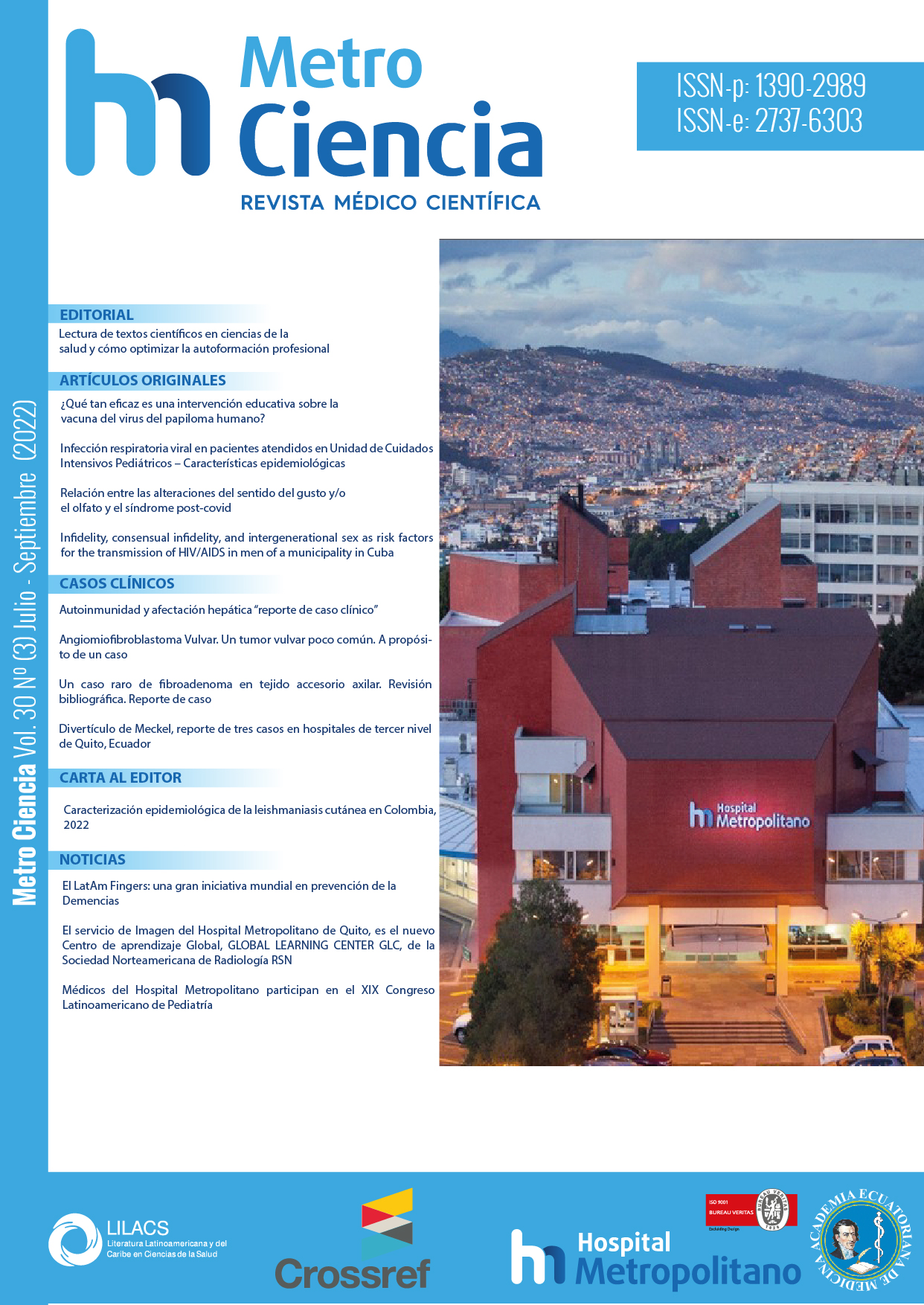 Cómo citar
Sempértegui Moscoso, R., Campos Abad, S., Salazar Suárez, J. A., Reyes Ipiales, L., & Santillán, X. (2022). Divertículo de Meckel, reporte de tres casos en hospitales de tercer nivel de Quito, Ecuador. Metro Ciencia, 30(3), 75-84. https://doi.org/10.47464/MetroCiencia/vol30/3/2022/75-84
Licencia
Derechos de autor 2022 Rodrigo Sempértegui Moscoso, Santiago Campos Abad, Jeanneth Alejandra Salazar Suárez, Liliana Reyes Ipiales, Xavier Santillán
Esta obra está bajo una licencia internacional Creative Commons Atribución 4.0.