Fluidoterapia y electrolitos parenterales en pediatría
Palabras clave:
Pediatría, fluidoterapia, electrolítos, deshidratación, superficie corporal, soluciones, hipernatremia, hiponatremia
Resumen
La administración de líquidos y electrolitos parenterales es una terapia fundamental de soporte en niños agudamente enfermos si la vía oral no permite la administración de la cantidad o composición requeridas de fluidos, por ejemplo en enfermedades de tipo gastrointestinal, respiratorio, neurológico, o en el período transoperatorio. Al momento de planificar la administración de líquidos y electrolitos parenterales en niños a partir del mes de edad, se debe considerar componentes relacionados con la cantidad de líquidos a infundir considerando los requerimientos secundarios a pérdidas hídricas habituales o requerimientos para reacciones metabólicas, evaluar el grado de deshidratación para la administración de líquidos que complementen el déficit, corregir las pérdidas que se han producido secundarios a una noxa externa (enfermedad, procedimiento quirúrgico, trauma, etc.) y finalmente aportar la cantidad adecuada de fluido que permita re-establecer la perfusión tisular. Es necesario conocer los cambios instaurados basados en la evidencia actual con la finalidad de incorporar a el manejo frecuente de los pacientes considerando también la toxicidad ya sean cualitativos o cuantitativos de esta terapéutica tan necesaria en el manejo del paciente pediátrico.
Descargas
Los datos de descargas todavía no están disponibles.
Citas
Holliday MA, Segar WE. The maintenance need for water in parenteral fluid therapy. Pediatrics 1957; 19: 823–832
Burgunder L. Fluids and Electrolytes. En: Kleinman K, The Harriet Lane Handbook, 22nd edition, p. 261
Campos-Miño S, Yerovi R. Tratamiento nutricional del Niño en Ventilación Mecánica. En: De Carvalho WB, Jiménez HJ, Sasbón JS, Carrillo H, Ventilación Pulmonar Mecánica en Pediatría. Atheneu, San Paulo, 2012, p. 469 – 488.
Talbot FB. Basal metabolism standards for children. Am J Dis Child 1938; 55: 455–459
Moritz ML. Maintenance Intravenous Fluids in Acutely Ill Patients. N Eng J Med 2105; 373: 1350-1360
Feld LG. Clinical Practice Guideline: Maintenance Intravenous Fluids in Children. Pediatrics 2018; 142 (6): e20183083
McNab S. Isotonic vs hypotonic intravenous fluids for hospitalized children. JAMA 2015; 314: 720–721
http://www.rxkinetics.com/ivosmolarity.html
Almeida HI, Mascarenhas MI, Loureiro HC. The effect of NaCl 0.9% and NaCl 0.45% on sodium, chloride, and acid-base balance in a PICU population. J Pediatr (Rio J) 2015; 91: 499–505
Friedman JN, Beck CE, DeGroot J. Comparison of isotonic and hypotonic intravenous maintenance fluids: a randomized clinical trial. JAMA Pediatr 2015; 169: 445–451
McNab S, Ware RS, Neville KA. Isotonic versus hypotonic solutions for maintenance intravenous fluid administration in children. Cochrane Database Syst Rev 2014; 12:CD009457
National Clinical Guideline Centre (UK). IV Fluids in Children: Intravenous Fluid Therapy in Children and Young People in Hospital. London, United Kingdom: National Clinical Guideline Centre; 2015. Available at: www.ncbi.nlm.nih.gov/pubmed/26741016
McNab S, Duke T, South M. 140 mmol/L of sodium versus 77 mmol/L of sodium in maintenance intravenous fluid therapy for children in hospital (PIMS): a randomised controlled double-blind trial. Lancet 2015; 385: 1190–1197
Carandang F, Anglemyer A, Longhurst CA. Association between maintenance fluid tonicity and hospital-acquired hyponatremia. J Pediatr 2013; 163: 1646–1651
Upadhyay A, Jaber BL, Madias NE. Incidence and prevalence of hyponatremia. Am J Med 2006; 119 (7, suppl 1): S30–S35
Moritz ML, Ayus JC. Disorders of water metabolism in children: hyponatremia and hypernatremia. Pediatr Rev 2002; 23: 371–380
Gerigk M, Gnehm HE, Rascher W. Arginine vasopressin and renin in acutely ill children: implication for fluid therapy. Acta Paediatr 1996; 85(5): 550–553
Judd BA, Haycock GB, Dalton RN, Chantler C. Antidiuretic hormone following surgery in children. Acta Paediatr Scand 1990; 79(4): 461–466
Arikan AA. Fluid overload is associated with impaired oxygenation and morbidity in critically ill children. Pediatr Crit Care Med 2012; 13: 253-258
Shaw AD. Major complications, mortality, and resource utilization after open abdominal surgery: 0.9% saline compared to Plasma-Lyte. Ann Surg 2012; 255: 821-829
Yunos NM. Association between a chloride-liberal vs chloride-restrictive intravenous fluid administration strategy and kidney injury in critically ill adults. JAMA 2012; 308:1566-1572
Yunos NM. The biochemical effects of restricting chloride-rich fluids in intensive care. Crit Care Med 2011; 39: 2419-2424
Carcillo JA, Davis AL, Zaritzky A. Role of early fluid resuscitation in pediatric septic shock. JAMA 1991; 266: 1242-1245
Dellinger RP. Surviving Sepsis Campaign: International Guidelines for Management of Severe Sepsis and Septic Shock: 2012. Crit Care Med 2013; 41: 580-637
Maitland K. Mortlity After Fluid Bolus in African Children with Severe Infection. N Eng J Med 2011; 364: 2483-2495
Weiss SL. Surviving sepsis campaign international guidelines for the management of septic shock and sepsis-associated organ dysfunction in children. Pediatr Crit Care Med 2020. DOI: 10.1097/PCC.0000000000002198
Russell MJ. Is There an Optimum Duration of Fluid Bolus in Pediatric Septic Shock? A Critical Appraisal of "Fluid Bolus Over 15-20 Versus 5-10 Minutes Each in the First Hour of Resuscitation in Children With Septic Shock: A Randomized Controlled Trial" by Sankar et al. Pediatr Crit Care Med 2018; 19: e435-e445
Sankar J. Fluid Bolus Over 15-20 Versus 5-10 Minutes Each in the First Hour of Resuscitation in Children With Septic Shock: A Randomized Controlled Trial. Pediatr Crit Care Med 2017; 18: e435-e445
Silversides JA. Liberal versus restrictive fluid therapy in critically ill patients. Intensive Care Med 2019; 45: 1440-1442
Long E. Cardiac Index Changes With Fluid Bolus Therapy in Children With Sepsis-An Observational Study. Pediatric Crit Care Med 2018; 513-518
Sinitski L. Fluid overload at 48 hours is associated with respiratory morbidity but not mortality in a general PICU: retrospective cohort study. Pediatr Crit Care Med 2015; 16: 205-209
Lex DJ. Fluid Overload Is Associated With Higher Mortality and Morbidity in Pediatric Patients Undergoing Cardiac Surgery. Pediatr Crit Care Med 2016; 17: 307-314
Ingelse SA. Early Fluid Overload Prolongs Mechanical Ventilation in Children With Viral-Lower Respiratory Tract Disease. Pediatr Crit Care Med 2017; 18: e106-e111
Goldstein SL, Currier H, Graf JM, Cosio CC, Brewer ED, Sachdeva R. Outcome in children receiving continuous venovenous hemofiltration. Pediatrics (2001) 107:1309–12. doi: 10.1542/peds.107.6.1309
Raina R. Fluid Overload in Critically Ill Children. Frontiers in Pediatrics 2018; 6: 306. DOI=10.3389/fped.2018.00306
Neyra JA. Association of Hyperchloremia With Hospital Mortality in Critically Ill Septic Patients. Crit Care Med 2015; 43: 1938-1943
Emrath ET. Resuscitation With Balanced Fluids Is Associated With Improved Survival in Pediatric Severe Sepsis. Crit Care Med 2017; 45: 1177-1183
Jansen E. Early lactate-guided therapy in intensive care unit patients: a multicenter, open-label, randomized controlled trial. Am J Respir Crit Care Med 2010; 182: 752-761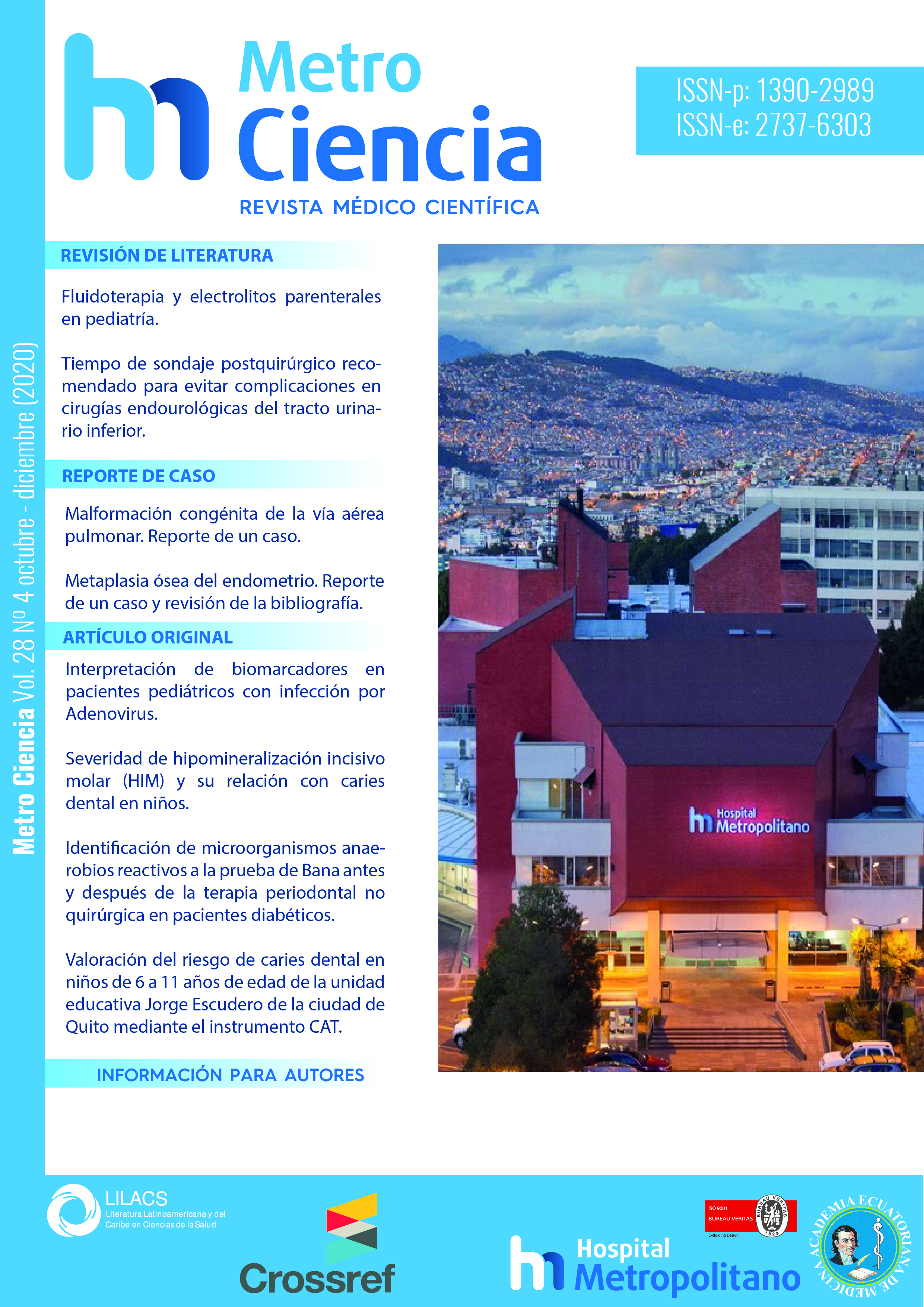 Descargas
Cómo citar
Campos Miño, S., & Moreno Castro, M. (2020). Fluidoterapia y electrolitos parenterales en pediatría. Metro Ciencia, 28(4), 4–15. https://doi.org/10.47464/MetroCiencia/vol28/4/2020/4-15
Sección
Revisión de literatura
Licencia
Derechos de autor 2020 Santiago Campos Miño, Mónica Moreno Castro
Esta obra está bajo una licencia internacional Creative Commons Atribución-NoComercial-SinDerivadas 4.0.